Business owner convicted after ignoring notices
A mechanic and landlord based in Kent has been sentenced after refusing to comply with enforcement notices issued by the HSE and Kent Fire and Rescue Service to protect workers and tenants from injury.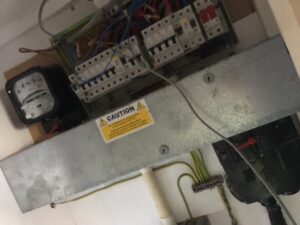 HSE inspectors were involved in a multi-agency intervention at the premises in September 2017 to protect vulnerable workers, tenants and the surrounding community.
HSE received concerns that workers were accessing the dangerous unguarded flat roof of The Convent of Mercy in Swanley. The premises were being used to store car parts for Smartworld; a car repair and sales business owned by Mustafa Kemal Mustafa. Mr Mustafa was also the landlord of The Convent, a house of multiple occupancy (HMO).
HSE issued seven enforcement notices, covering unsafe working at height, dangerous electrical installations, flammable risks and machinery guarding.
Croydon Crown Court heard that Mr Mustafa deliberately ignored prohibition and improvement notices served by the HSE and continued to put himself, workers and members of the public at risk.
Mr Mustafa Kemal Mustafa, of Briar Lane, West Wickham, Bromley, pleaded guilty to non-compliance of notices breaching:
Section 21 and 22 of Health and Safety at Work Act 1974;
Section 4(2) of the Electricity at Work Regulations 1989;
Section 6(3) of the Work at Height Regulations 2005.
He has been disqualified as a director for six years, received two suspended custodial sentences, 300 hours unpaid work and ordered to pay £8,000 in costs.
Speaking after the hearing, HSE Inspector Joanne Williams, said: "HSE is dedicated to ensuring that business owners and landlords operate within the law and provide safe accommodation for tenants and a safe place to work for employees.
"We do not tolerate disregard for health and safety and consider the non-compliance of HSE enforcement notices as a serious offence.
"In this case Mr Mustafa chose to flagrantly ignore the support, guidance and warnings from HSE to assist his compliance with the law and continued placing people at serious risk of injury or even death."
Inspector Williams added: "Wherever possible we continue to work with companies to improve health and safety. However, we will not hesitate to take enforcement action where necessary and prosecute individuals and businesses who ignore warnings and the law."