Employee who suffered hearing loss from faulty alarm awarded over £240,000
A woman who required hearing aids after her ears were damaged by a faulty fire alarm at her workplace has been awarded over £241,000 in compensation.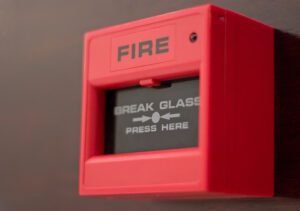 The All-Scotland Sheriff Personal Injury Court heard how Haesel McDonald, who was an employee of tanning salon operator Indigo Sun Retail Ltd sought reparation for injury in the form of tinnitus and hearing loss arising from four hours of exposure to the noise from the alarms in her workplace.
Sheriff John Mundy was told that Indigo Sun Retail Ltd was aware that the fire alarm on the premises was faulty, causing it to sound unnecessarily on numerous occasions. On the morning of 12 December 2015, when Haesel McDonald was working an 9am to 1pm shift, the fire alarm went off.
The court heard how the noise from the alarms made it difficult for Miss McDonald to concentrate on her work. She telephoned her manager, Steven Campbell, for assistance, who indicated that he would come to the salon but that she should continue working. Miss McDonald said she was frustrated by this outcome, hoping that the alarm would be able to be switched off or that she would be allowed to go home, but she remained at the salon, saying she feared she would lose her job if she left.
The premises manager, Mr Campbell, arrived at the premises at around 11am and attempted to muffle the sound of the alarm with tape, saying that an engineer had been called. Miss McDonald said she was not offered any form of ear protection and was told to keep working. The court heard how nearby shops, that were also having problems with their alarms, managed to either turn them off or sent all of their employee's home.
Ringing her ears
An investigation into the incident heard that Miss McDonald exposed to an average of 87.5dB prior to her manager placing tape over the alarm and 82.9dB thereafter. She said she continued to be aware of a ringing in both ears after her shift had ended and later noticed an impairment of her hearing. In December 2016 she was diagnosed with bilateral sensorineural hearing loss and provided with hearing aids on the NHS.
In March 2017, Miss McDonald was referred to a consultant otolaryngologist, Professor Laing. His working diagnosis was that the pursuer had sensitive inner ears and that most of her hearing loss had been caused by the exposure to the noise of the alarms.
It was averred that the pursuer no longer felt able to pursue a career in dance due to a loss of confidence caused by her hearing impairment. Further, her NHS hearing aids were generally uncomfortable, and it would be better to replace them with a private model.
Indigo Sun Retail Ltd was found to be at fault in common law and under its statutory duty under the Control of Noise at Work Regulations 2005. Miss McDonald should not have been exposed to the noise of the alarm and she should have been instructed to leave the premises after it had activated.
Extremely loud
In his judgment, Sheriff Mundy said: "That the noise of the alarm was extremely loud cannot seriously be disputed in light of the evidence of the pursuer of the effect it had upon her at the time and indeed the evidence of her student colleague and flatmate Amelia Newton that the noise could be heard from within their flat across the street, all of which is reflected in the findings in fact."
He went on to say: "The application of tape did not achieve elimination of the risk, nor did it bring down the level of noise to below the lower exposure action value. A reasonably practical and obvious step would have been to have a system in place to instruct the pursuer to remove herself from the premises in the event of the alarm sounding."
On whether the pursuer's hearing loss had been caused by exposure to the alarms, Sheriff Mundy noted: "[The pursuer's] evidence, which I have accepted as credible and reliable, shows that before the pursuer's exposure to the fire alarm she had no tinnitus or hearing difficulties. Following the exposure of the noise of the fire alarm, she developed tinnitus and hearing difficulties."
He continued: "While it is not of course for the defender to prove a cause, I have found no other credible explanation for the pursuer's problems and if there was another cause, it would be a remarkable coincidence if the symptoms emerged immediately following the exposure to noise."
Sheriff Mundy concluded on this matter: "The pursuer has discharged the onus upon her to prove causation by the civil standard. The very risk that the regulations were designed to avoid eventuated and, as indicated, it is my view that the obligations in the regulations founded upon are within the compass of the employer's duty to take reasonable care at common law."
Considering quantum of damages, he said: "In light of [the pursuer's] young age, the immediate onset of symptoms, the hearing deficit being bilateral, the severity of the hearing loss as demonstrated by the audiograms and being accompanied by intermittent tinnitus, an award should be made at the upper end of [the solatium] bracket. Account should also be taken of the prospect of deterioration in her hearing."
He added: "It seems to me to be perfectly reasonable for the pursuer to have hearing aids which allow her to follow a future career involving vigorous physical activity and also to allow her to engage in dancing."
For these reasons, the defender was found to be liable for the pursuer's hearing loss. Damages were assessed at £25,000 for solatium, £1,300 of interest thereof, and £214,977 for the future cost of private hearing